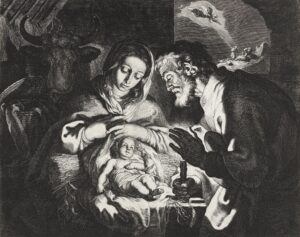 Last night I dreamed Julie Andrews and I went grocery shopping. It's safe to assume God was not giving me a message as he did with Joseph.
I think about Joseph this time of year. He was "a good man," according to Matthew, which seems an understatement; he was rewarded for his goodness with gossiping neighbors, a stressful road trip to Bethlehem, and having to raise Someone Else's child.
I think about his dreams, both the one from the angel and his dreams for himself. I think about his quiet willingness to sacrifice one for the other. When he left for Bethlehem, did it cross his mind he might be leaving home for years? Did he ever look at Mary in the firelight and wish they could have had a little time as newlyweds before assuming the responsibilities of parenthood?
I think about Mary, too. Was she afraid of losing Joseph? Did she cry herself to sleep until he decided to marry her? I wonder if she knew, when she left for Bethlehem, that the baby would arrive there and if she cried when she hugged her mother goodbye. Did Joseph help with the birth, and was she completely mortified by it?
On the first Sunday of Advent we focus on hope because we remember the prophecies about the Messiah and the anticipation of God's people waiting for a deliverer. It's appropriate to begin our celebration of the season this way, but it's also appropriate to remember that the real people involved in this miracle surrendered real hopes for their own lives to make it happen.
We see this pattern throughout Scripture—from Job's grief to Jesus' crucifixion, obedience to God requires sacrifice and pain. The prophets themselves suffered: Hosea faithfully loved an adulteress, Jeremiah was known for his tears, and Ezekiel was forbidden to mourn the death of his wife.
Of course, we must also remember the great blessings for Mary, Joseph, and other Bible heroes. I would give everything I have for an afternoon with Jesus, and Mary had decades with him. As Catholic archbishop Óscar Romero once said, "Without poverty of spirit, there can be no abundance of God." The greatest sacrifices for God are sometimes rewarded with the deepest experience of him.
But the suffering still stings. In Luke 2, Simeon extends the prophetic tradition with his words to Mary: "This child is destined to cause the falling and rising of many in Israel, and to be a sign that will be spoken against, so that the thoughts of many hearts will be revealed. And a sword will pierce your own soul too." THIS is the message every postpartum, emotionally exhausted, first-time mother longs to hear! Prepare for emotional devastation!
The Christmas narrative is marked by Magnificats and Magi but also by mourning. The greatest moment in history includes both herald angels and heartbreak. God planned this or allowed it or both, and I'm not sure how to make sense of that other than to believe the absence of comfort in a situation does not mean the absence of God.
So on this first week of Advent, let us return once more to a Story that is complex and difficult, but also bigger and better and more beautiful than our temporary troubles. This week allows us to admit that life is so hard, and to hope that Emmanuel is so close.